Tonight the Grand Rapids Children's Museum sponsored the Whitecaps game and a few hours before hand, members (that's us!) got to go play out on the field, do some activities, get faces painted and have pictures taken with some of the players.
We got there at 5:00 and as soon as we got on the field and Rainah saw the dirt, she started playing in it... there were 6 stations of activities on the field, and she is sitting in the dirt!
We finally got her up and over to one of the stations which was a parachute which she just LOVES. It's her favorite thing to do at Gymboree, so she was excited when she saw it. They had a bunch of different sized baseballs on it and everyone was shaking it. She played there for a little while until we tore her away to go to the next station where they were letting kids bat. Daddy helped her with that and she thought it was great.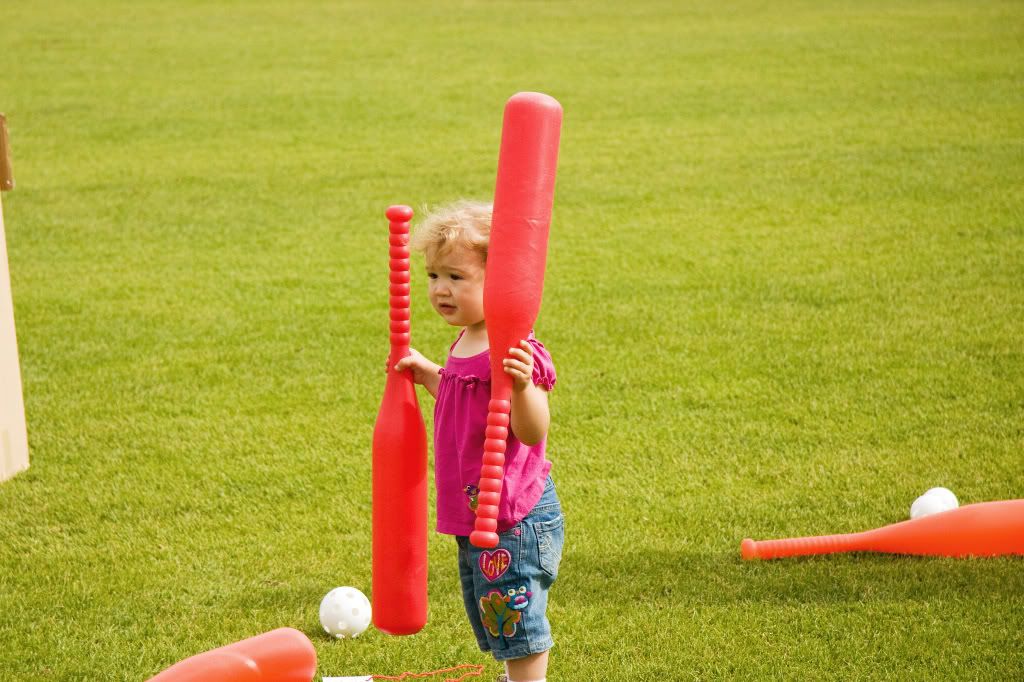 Then she got to go pitch a few balls. She totally disregarded the line she was supposed to stand behind (a jump rope), and then when she got the ball in, everyone had to clap for her.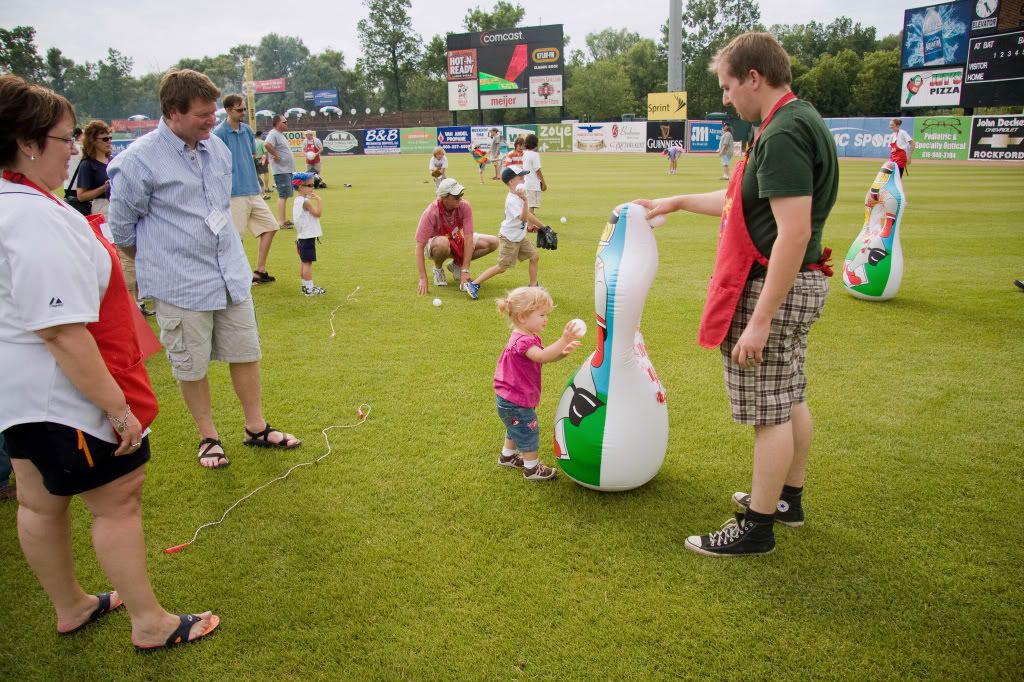 The next station was playing catch, which she didn't attempt, but she did find a huge baseball that she ran around with for a little while...
Ahhh; spotted the parachute
Then it was back to the parachute, and now she was really into it, running underneath it every time it went up in the air. All of the volunteers were cracking up watching her. We couldn't get her away from the thing and finally had to pick her up and carry her. We just about go off the field and I put her down so she could walk. She turn around and b-lined it right back to the parachute. (I'm thinking, good gift idea!)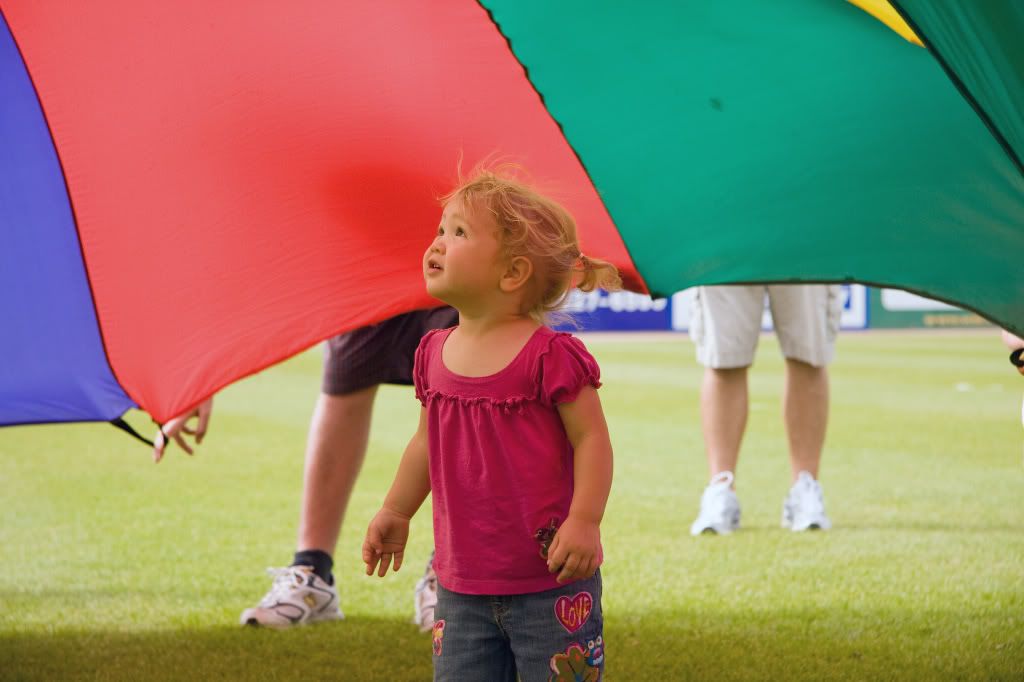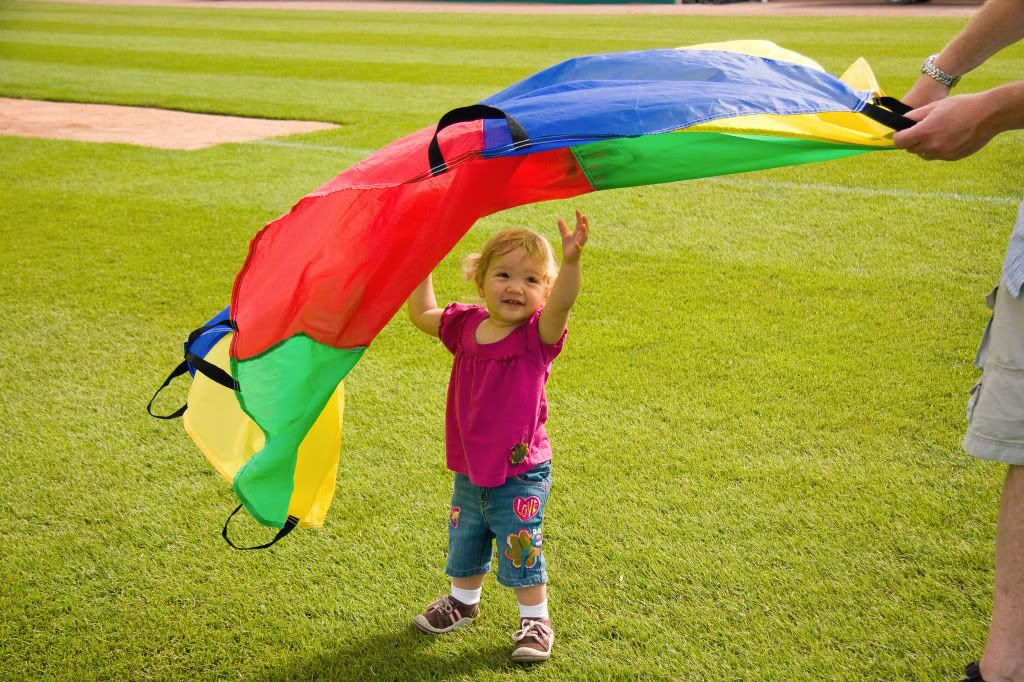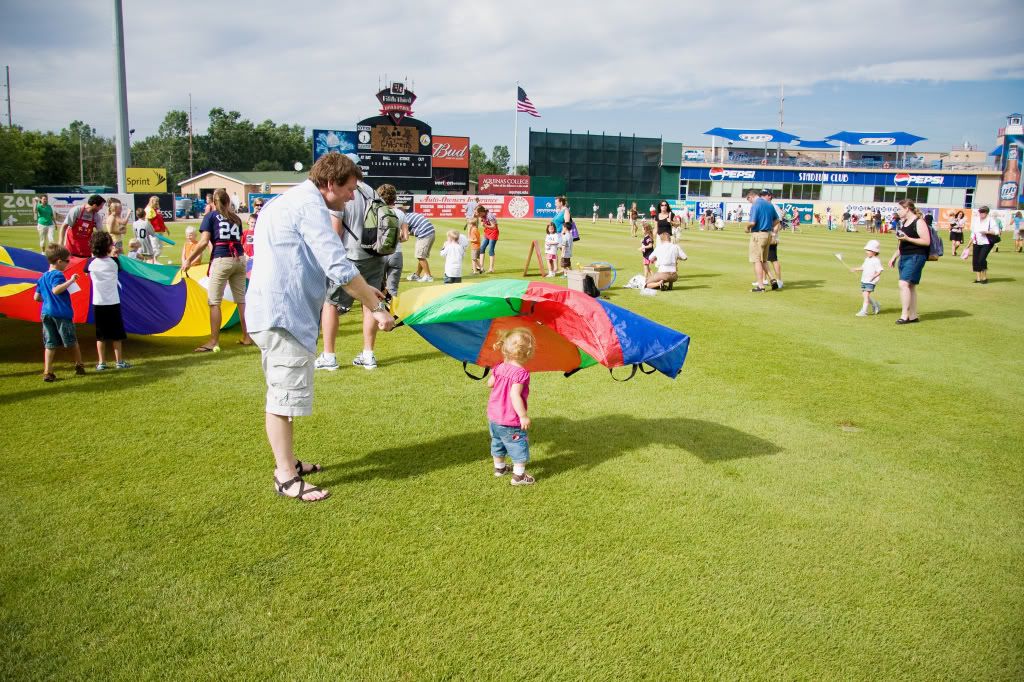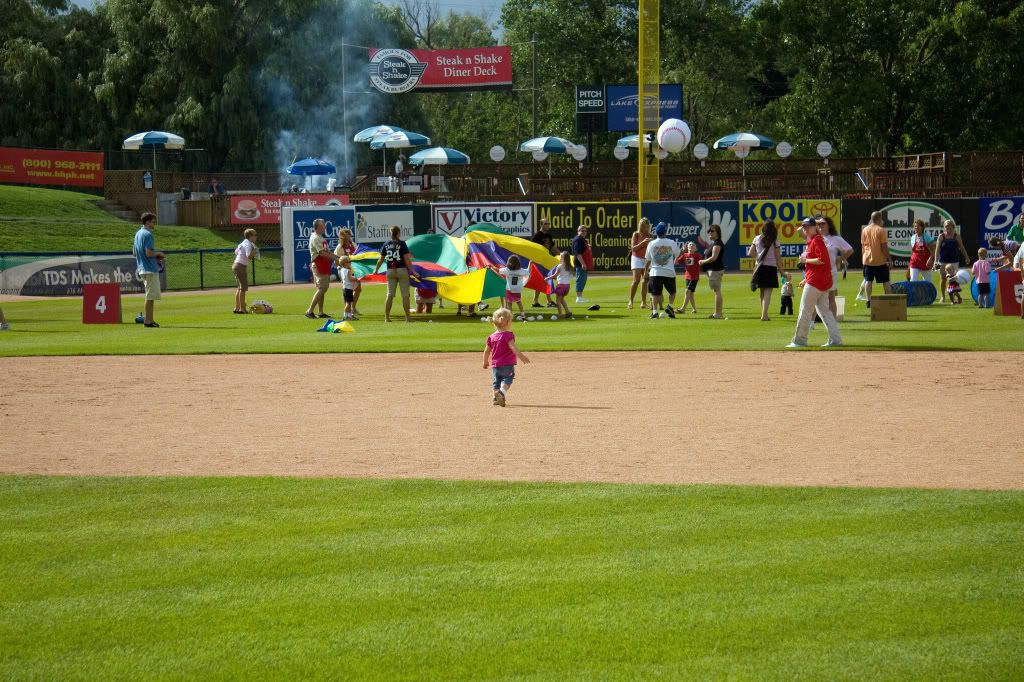 running back to the parachute
finally got her off the field
We went up into the stands and Rainah got to make a flag (which she later destroyed) and get her face painted (which I was shocked she actually sat still for)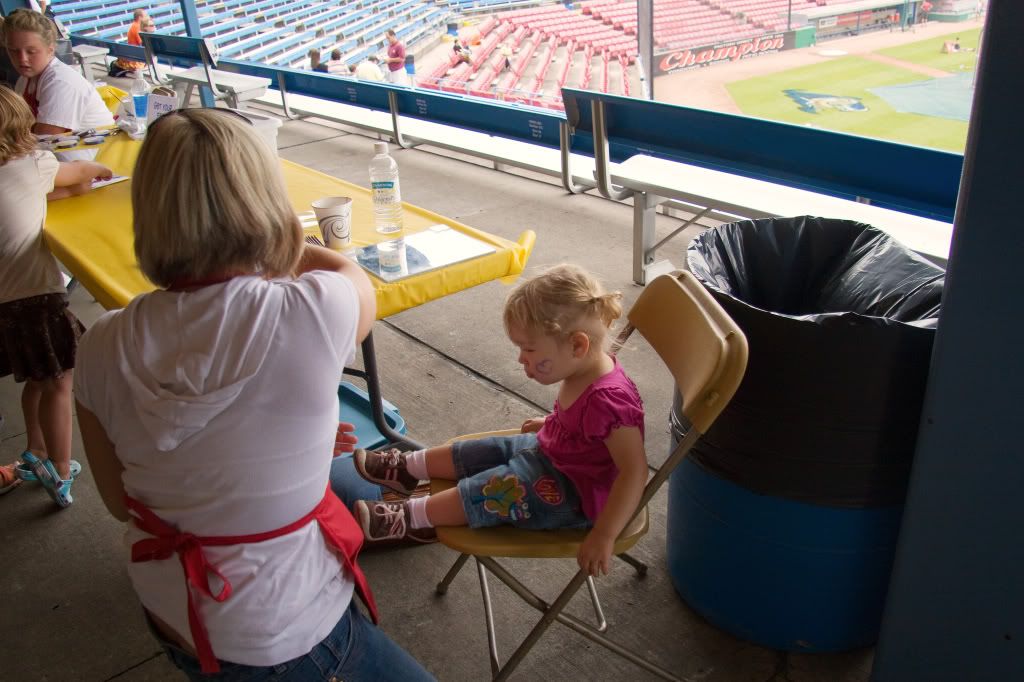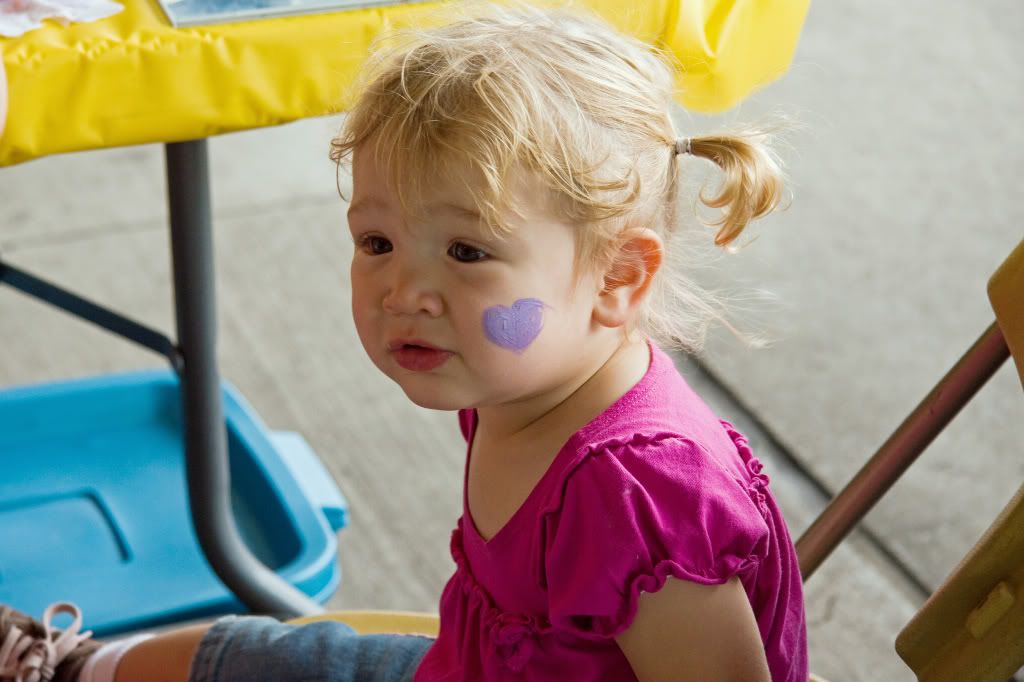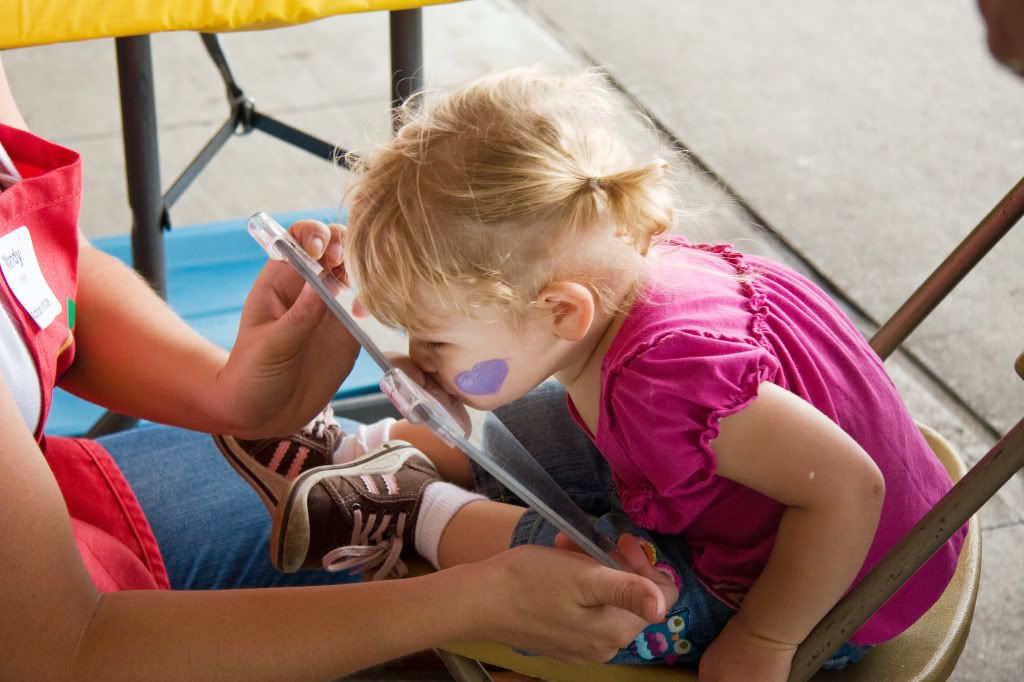 Then it was time to eat! MMMM; hot dogs...
and play at the kids area (which is always there... her favorite is the bounce house)
Where are pictures of the game you ask? Well, all that playing wore us out and by the time the game started, we were ready to go home. (Actually, Don had to be in Lansing for a school function, so we had to leave... bummer :) )
Rainah seemed to have a great time and next year will probably enjoy it even more when she can participate in even more things.